Covenants Part I ... Lot's Wife, the Dead Sea, Sodom & Gomorrah, and Ezekiel's Dream: Signposts of the "Big Picture" of Scripture
STOSS Books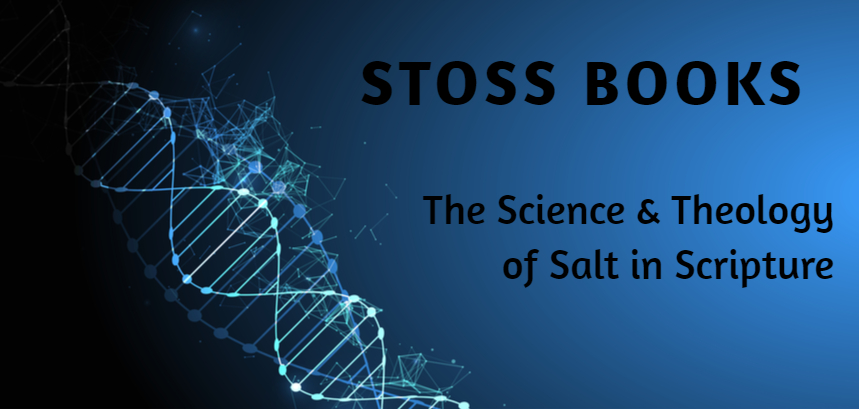 Part I: What is The "Big Picture" of Scripture?
If I had to choose a single theological topic, the understanding of which would contribute the most to acquiring the big picture (or the whole story) of the Bible, the topic I would choose would be covenants, both between the Persons of the Trinity and between God and man. So, what do: 1) Lot's wife (who became a pillar of salt); 2) the Dead Sea; 3) Sodom and Gomorrah, and; 4) Ezekiel's dream of the rebuilt temple have in common? They all contribute a great deal to a more complete understanding of what a biblical covenant is, and why it is a fundamental and important theological teaching. Through the Science and Theology of Salt in Scripture (STOSS), we are given the opportunity to increase our understanding of Covenant Theology (the big picture). This is Part I of the blog. There will be four more parts, each elaborating on one of the four sub-topics listed above.
Some of the information contained in this blog series will be helpful in answering the question posed in our next blog series. It will tackle the question: who, or what is the Beast described in the Book of Revelations (13:1).
What is a Covenant? Why is it Important?
What is a covenant? In the non-biblical sense, a covenant is a binding agreement, a contract between two or more persons. In the biblical sense, a covenant is much more: it is a solemn oath (sacratemtum in Latin) and a gift of persons.[1] To appreciate the wide gap in the relative gravity of a civil covenant versus a Divine/sacramental covenant, Dr. Scott Hahn tells us that the Trinity is a covenant relationship of three Persons in one God.[2] A covenant is, therefore, a family oath, as can be seen by the very names given to the different Persons of the Trinity, i.e. Father, Son, and Spirit. We are meant to be part of that covenantal relationship. Otherwise, we could not rightly be called sons and daughters of our Heavenly Father (2 Cor. 6:16-18). Hahn tells us that a covenant is designed by God to forge bonds of sacred kinship; to turn people into spouses, sons, daughters, and parents ... both to each other and to Himself.[3]
No Covenant & Law – No Redemption
Good Seed – Good Fruit; Bad Seed – Bad Fruit
The Body Has Its Own Software
Endnotes: