11/14 -- Covenants Part III: The Dead Sea & the Biology of Fallen Man
STOSS Books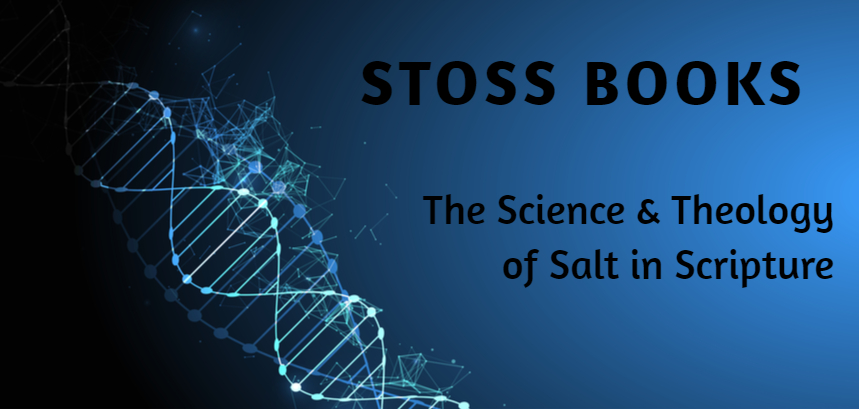 Part III: Dead/Salt Sea
The Symbolism of the
Dead Sea
The Geography of Salt / Dead Sea in Scripture
Brief Primer on Biological Water
The next water state we are concerned with is called
bound
water. Imagine a string of beads bound together in such a fashion as to form a single layered sheet of beads. After putting a very tiny dab of glue on the bottom of each bead, position the beads on a table, thus gluing the sheet to the table's surface. That would be roughly analogous to bound water. Each bead represents a single molecule of water. The glue represents the attraction of the two opposite electrical charges between the water molecule and the surface to which it is bound. The table represents the surface of a macromolecule, such as a biological protein or DNA.
Now let's begin to learn how this water structuring affects our biological function.
Biological Water and Protons
Biological Water and Genetic Function
Water's role in cell architecture and function
Good Biological Water versus Bad Biological Water
From the same

mouth [emphasis SML

] come blessing and cursing. My brethren, this ought not to be so. Does a spring pour forth from the same opening fresh water and brackish [

partially salty

]? Can a fig tree, my brethren, yield olives, or a grapevine figs? No more can salt water yield fresh. Who is wise and understanding among you? By his good life let him show his works in the meekness of wisdom (James 3:10-13).
Now the men of the city said to Eli′sha, "Behold, the situation of this city is pleasant, as my lord sees; but the water is bad, and the land is unfruitful." He said, "Bring me a new bowl, and put salt in it." So they brought it to him. Then he went to the spring of water and threw salt in it, and said, "Thus says the Lord, I have made this water wholesome; henceforth neither death nor miscarriage shall come from it." So the water has been wholesome to this day, according to the word which Eli′sha spoke (2 Kgs. 2:19-22).
1. By way of reminder, let us not forget that Lot's wife became a pillar of crystalline salt on the very shores of the Dead Sea, as a direct result of her sinful and disobedient heart.
2. Ezekiel writes, "You were in Eden, the garden of God; every precious stone [emphasis mine] was your covering, carnelian, topaz, and jasper, chrysolite, beryl, and onyx, sapphire, carbuncle, and emerald; and wrought in gold were your settings and your engravings. On the day that you were created they were prepared" (Ez. 28:13). Keep in mind that man did not wear clothing in Eden. Adam and Eve had not yet sinned, nor were inclined to sin. The only covering they had was their perfectly good body;
3. In Revelations, we read, "Then I saw a new heaven and a new earth; for the first heaven and the first earth had passed away, and the sea was no more" (Rev. 21:1). Why is the sea singled out for exclusion? There's no mention of lakes, rivers, ponds, etc. being excluded from the

new earth

. All seas, by definition, are salt water; some more salty than others. Scripture is referencing the fact that, after the resurrection, the bodies of the saved are pure. No longer is our salt of DNA acting as the mouth for the overflow of an impure heart. We are no longer salt water, but have become pure water

— fresh water, water surrounding precious stones. Our DNA, our salt, i.e. mineral crystals, have been purified and become transparent gems, more precious than anything we can imagine;
4. In Revelations we read, "and before the throne there is as it were a sea of glass, like crystal" (Rev. 4:6). The geographical sea is a symbol of the functional ties between the biological salt and biological water of fallen man. The "sea" of glass is man resurrected into eternal Life. The reason v. 6 uses the words, "as it were", is to distinguish its meaning from other passages in which the geographical sea (especially the Dead/Salt Sea) is used as a symbol of fallen man's spiritually dead, unfruitful body, and;
5. St. Teresa of Avila (a Doctor of the Church) was given a vision by God of a beautiful crystal globe containing seven rooms. She tells us this globe was in the shape of a castle.

[45]

Teresa began to look upon the soul as a single

diamond or of very clear crystal![46]

She goes on to write, "All our interest is centered in the rough setting of the diamond, and in the outer wall of the castle — that is to say, in these bodies of ours." The entire castle, including the walls, i.e. flesh, were pure crystal.

[47]
Biological Consequences of Original Sin
Clay: Symbol of Plasticity of Dust/Salt via Water
Baptism: Purification of the Body by the Holy Spirit
Scripture provides us with at least one direct linkage between Baptism, biological water, and dust. In Scripture, we read,



As he passed by, he saw a man blind from his birth. ... "As long as I am in the world, I am the light of the world." As he said this, he spat on the ground and made clay [recall the significance of clay] of the spittle and anointed the man's eyes with the clay, saying to him, "Go, wash in the pool of Silo′am" (which means Sent). So he went and washed and came back seeing (Jn. 9:1-7).
Water & the Incorruptibles
Conclusion
Cited by authors: Welch GR; Berry MN, "Long-Range Energy Continua and the Coordination of Multienzyme Sequences in Vivo," In: GR Welch (ed.), Organized Multienzyme Systems, (Academic Press, New York, 1985)
Journal Source: Alexander I. Kolesnikov, George F. Reiter, Narayani Choudhury, Timothy R. Prisk, Eugene Mamontov, Andrey Podlesnyak, George Ehlers, Andrew G. Seel, David J. Wesolowski, Lawrence M. Anovitz. "Quantum Tunneling of Water in Beryl: A New State of the Water Molecule." Physical Review Letters, 2016; 116 (16) DOI: 10.1103/PhysRevLett.116.167802
Journal Source: Piotr Ciąćka, Piotr Fita, Arkadiusz Listkowski, Czesław Radzewicz, Jacek Waluk. "Evidence for Dominant Role of Tunneling in Condensed Phases and at High Temperatures: Double Hydrogen Transfer in Porphycenes." The Journal of Physical Chemistry Letters, 2016; 7 (2): 283 DOI: 10.1021/acs.jpclett.5b02482
Journal Reference: Hassan Khesbak, Olesya Savchuk, Satoru Tsushima, Karim Fahmy. "The Role of Water H-Bond Imbalances in B-DNA Substate Transitions and Peptide Recognition Revealed by Time-Resolved FTIR Spectroscopy." Journal of the American Chemical Society, 2011; 133 (15): 5834 DOI: 10.1021/ja108863v. http://dx.doi.org/10.1021/ja108863v
Journal Source: Kumar et al., "A tetrahedral entropy for water." Proceedings of the National Academy of Sciences, 2009; 106 (52): 22130 DOI: 10.1073/pnas.0911094106
Cited by author

: Coloe,

God Dwells With Us

, 115–143; Hoskins,

Jesus as Temple

, 160–170; Kerr,

The Temple of Jesus' Body

, 226–241