9/05 -- Covenants Part II: What Does Lot's Wife Teach us About the "Big Picture" of Scripture?
STOSS Books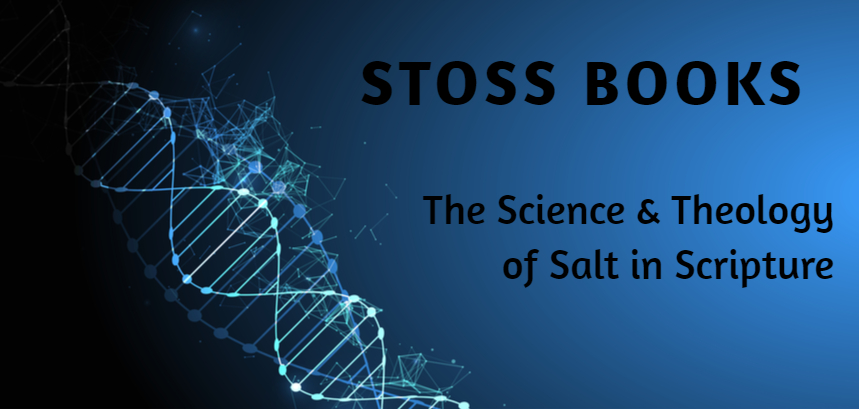 Covenants Part II: Lot's Wife Who Became a Pillar of Salt
What Does Lot's Wife Tell Us about the Meaning of Covenants?
Lot's Wife Became a Pillar of Salt. What is the Literal Meaning?
1. There is no scriptural basis for believing that God would annihilate one's nature and replace it with a lower nature. In fact there is scriptural evidence to the contrary. For us to believe that Idit became a pillar of geological salt, that is exactly what would have had to happen to her.

The International Theological Commission

has stated that the image and

likeness of God

, in which man was created, resides in the

whole man

,

body

and

spiritual soul

.

[11]

If God had turned Idit into geological salt, the physical part of her human nature ... her body ... would be gone; not just corrupted, but annihilated. Geological salt is substantially different than biological salt. Therefore, the substance of her human nature would have been annihilated. Not even the fallen angels, whose sins were much more grievous than Idit's, lost their angelic natures. Their angelic nature remained intact, but corrupted.

Scripture and the Summa tell us that God does not annihilate anything. From the Summa we read, "Now the nature of creatures shows that none of them is annihilated … Moreover, the annihilation of things does not pertain to the manifestation of grace [SML]; since rather the power and goodness of God are manifested by the preservation of things in existence [therefore annihilation of a nature would be contrary to God's perfect goodness — SML]. Wherefore we must conclude by denying absolutely that anything at all will be annihilated … That things are brought into existence from a state of non-existence, clearly shows the power of Him Who made them; but that they should be reduced to nothing would hinder that manifestation, since the power of God is conspicuously shown in His preserving all things in existence, according to the Apostle: 'Upholding all things by the word of His power' (Hebrews 1:3) … and 'I have learned that all the works that God hath made continue forever [Eccl. 3:14]. [Summa, I, q. 104, a. 4].'"
2. Think about this, if one interprets Genesis quite literalistically, one would have to admit that

only

Adam

may

have been made from actual geological dust … dust of the earth. For

all

the rest of us (Eve, the exception, is talked about at

http://www.stossbooks.com/creation-of-eve.html

), our body was made through one event — the union of a sperm cell (with the exception of Jesus) and an egg cell, both of which contain the biological salt/dust of DNA. Everything we are, from the physical body perspective, came from the sperm and egg — and

only

the sperm and egg. If you're wondering about the cell material in which the DNA resides … nope, not salt, not dust! The structural material of the cell is composed of complex chemicals called proteins. Therefore, of all the cellular materials of the cell, only DNA can be identified as dust/salt. Recall that Scripture tells us we are made from the dust of the earth (cf. Gen. 2:7, 3:19, 18:27; Tobit 3:6; Job 10:9; Eccl. 3:20; and many others) and we will return to dust.
What Does a Covenant of Salt Mean?
What Does Lot's wife (pillar of salt) Tell us About the Big Picture?
On account of his hospitality and godliness, Lot was saved out of Sodom when all the country round was punished by means of fire and brimstone, the Lord thus making it manifest that He does not forsake those that hope in Him, but gives up such as depart from Him to punishment and torture. (Genesis xix; cf. 2 Peter 2:6-9) For Lot's wife, who went forth with him, being of a different mind from himself, and not continuing in agreement with him [as to the command which had been given them], was made an example of, so as to be a pillar of salt unto this day. This was done that all might know that those who are of a double mind, and who distrust the power of God, bring down judgment on themselves and become a sign to all succeeding generations.

[

26]
The options are the following: A). She was encased by raining brimstone (sulfur liquefied by extreme heat), causing her to become a pillar of the salt of DNA, and the DNA was the only salt present; B). She was miraculously transformed into a geological salt, replacing her salt of DNA. I don't view this as likely (see main text for reasons); C). A chemical reaction occurred within the falling sulfur, causing it to become a salt. Sulfur could, for example, become a sulfide salt through a change in the number of electrons in the ion. This option is not likely considering Deuteronomy 29:22-23. These passages specifically separate the presence of the chemical salt from the elemental brimstone in the writer's description of a burnt-out wasteland (i.e. Sodom and Gomorrah, among others); and finally, D). The molten sulfur in which she was encased could have been mixed with the geological salt that was abundant in the region.
Ignoring option 'B', the remaining three options leave us with a critical question that needs to be answered. All three of the remaining options involve scenarios in which multiple materials are involved. With option 'A', there's sulfur and salt of DNA. With option 'C', there's sulfur that has become a possible sulfide, and the salt of DNA. With option 'D', there's the salt of DNA, sulfur, and geological salt. So the question is this: if multiple materials were involved, why did God only mention the salt in the demise of Lot's wife? Why focus on the salt? There must have been a theological reason for mentioning salt. I believe it was God's intention to use Idit's DNA as a map legend and sign.