How & Why of Incorruptibility of Saints
Atheists Pg > Atheists Bible Challenge
Incorruptible Saints: The Hows and Whys of the Holy Spirit's Power
The hypothesis: The incorrupt bodies of Catholic Saints (currently numbering over one-hundred-fifty) are an example of the instrumentality of water and biological light
in sending out (i.e., communicating) the power of the Holy Spirit. The phenomenon of incorruptibility among certain saints occurs when their bodies either entirely, partially, rapidly, slowly, or fully arrest the natural decaying process — even after many centuries. There are three critical components to the
instrumentality
of created
things that are
acted upon by the power of the Holy Spirit. They are:
structured biological water;
sound waves;
and organically ge
nerated electromagnetic energy. The Holy Spirit gifts incorruptibility to saints in the form of
Gratuitous Grace
. The prime efficient cause of this phenomenon is efficacious, sanctifying, intimate, and
literal
(although
meta-sense-able
) one-flesh relationship (a
Covenant of Salt
) between Jesus and his saints — i.e., saints whose hearts were especially inflamed with holy desire by the Holy Spirit. Holy desire enflames the spiritual soul with longing for a perfect and complete union with the Resurrected Jesus; a union accomplished by frequently receiving Jesus in the marriage banquet of the Lamb
(Rev 19:7-10
), i.e., the Eucharist. The Eucharist is
the
reason why incorruptibility is even possible, but only in the
New and fulfilled Covenant of Salt
. I am not aware of any deceased person bearing an incorruptible body during the entire span of the Old Covenant of Salt (the Old Covenant).
What Motivates God to Keep the Bodies of Some Saints Incorrupt?
Why is man, who is made in the image and likeness of God, so valuable to Him that He would preserve some of them from bodily corruption? Here are a few quotes from St. Hildegard of Bingen (a Doctor of the Church) informing us of why it is so:
1). In a section titled, "

On the

sandy globe of the earth

and what it signifies

" Hildegard tells us, "Of all the strengths of God's creation, Man's is most profound, made in a wondrous way with

great glory from the dust of the earth

[emphasis SML] and so entangled with the strengths of the rest of creation that he can never be separated from them."[i] The world, including the earth from which man is made, will be made new

—

but it will never end. Why? Because man (whose glorified body will still be

physical

, but not

mortal

) will live eternally. How do we know? In a prayer that millions of Catholics pray every day, we say: Glory be to the Father, and to the Son, and to the Holy Spirit, as it was in the beginning, is now, and will be forever,

world without end

. Amen (so be it). Our bodies, made from the dust of the earth, are the new world.

2).

Man, having been delivered, shines in God, and God in Man; Man, having community in God, has more radiant brightness in Heaven than before. This radiant brightness would not have been so if the Son of God had not put on flesh, for if Man had remained in Paradise, the Son of God would not have suffered on the wood of the cross. But when the wily serpent deceived Man, God was touched by true mercy and ordained that His Only-Begotten would become incarnate in the most pure Virgin.[ii]

3). "Therefore, the human form is to be seen in the inmost nature of the Deity [see I AM That I AM],

where neither angels nor any other creatures appear

; because My Only-Begotten, to redeem the human race, assumed human form in the flesh of a Virgin. And He will carry in His heart those who are with young. How? My Son carries human beings in His blood, and saves them by His five wounds, for whatever sins they have committed by means of their five senses are washed away by supreme justice when they repent; and He carries them so because He was incarnate, and suffered wounds on the cross, and died and was buried, and rose again from the dead.

"And He has stretched out His hand to them and drawn them back to Himself. How? When He assumed humanity for them, though they thought they were lost when Adam fell. For My Only-Begotten conquered death, and it could no longer triumph over them; and so He knew them in the power of His glory, and knew that they were to come to Him by the purgation of penance."[iii]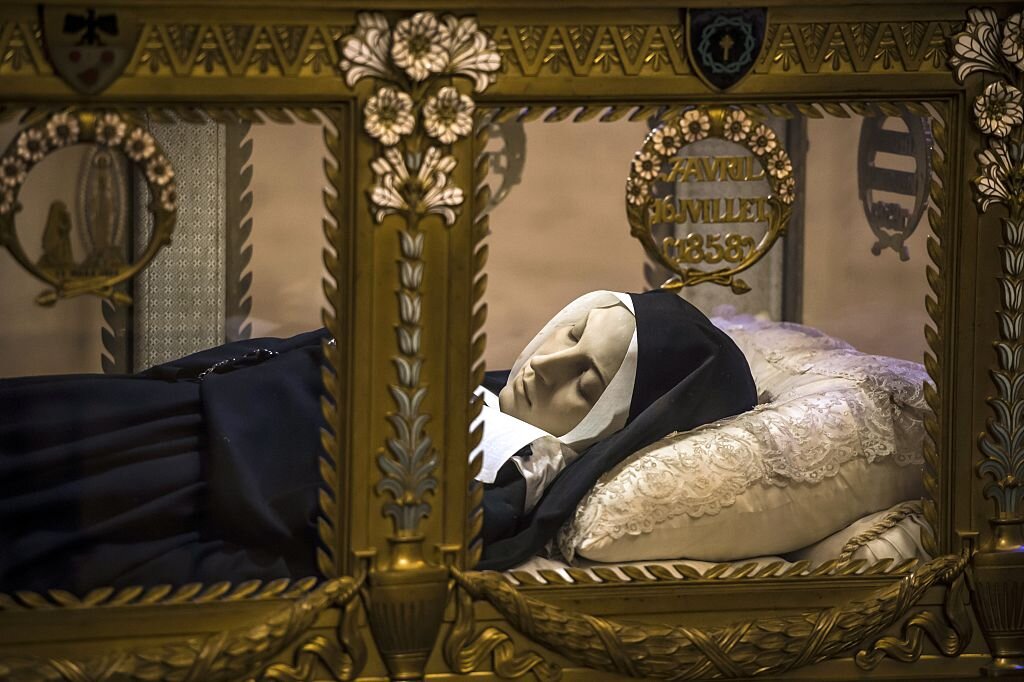 St. Bernadette

Soubirous

died on April 16, 1879. The photograph above is a view of the shrine in the chapel of the Convent of St Gildard of Nevers, where the body of Marie Bernarde "Bernadette" Soubirous, known as St Bernadette, was transferred to and buried, on February 6, 2015 in Nevers. (Photo credit: JEAN-PHILIPPE KSIAZEK/AFP via Getty Images)

. Licensed through Getty Images.
Does the Holy Spirit Produce Physical Changes via Water?
Does the Holy Spirit Produce Physical Changes via Electromagnetic Energy?
1) the radiation intensity from the living organism is several orders of magnitude weaker than a laser;

2) the degree of

coherence

of the radiation in the living organism is many orders higher than a technical laser; and,

3) the radiation generated from within the human body is coherent over a range of wavelengths (polychromatic), while a laser is coherent in only one wavelength (monochroma

tic).

[26]
1) neurologically (nervous system);

2) biochemically (hormones);

3) energetically (electromagnetic energy); and,

4) biophysically (pulse waves, such as with the beating heart).[26B]
Testimony of the Saints
How does the Holy Spirit use Bio-Water, Light, and Sound to Keep Saints Incorrupt?
Updated: 05/18/2022
ENDNOTES:

Journal Source: Stephan W. Kohl, Lev Weiner, Leonid Schwartsburd, Leonid Konstantinovski, Linda J. W. Shimon, Yehoshoa Ben-David, Mark A. Iron, and David Milstein. "Consecutive Thermal H2and Light-Induced O2 Evolution from Water Promoted by a Metal Complex." Science, 2009; 324 (5923): 74 DOI: 10.1126/science.1168600.
Journal Source

: Kumar et al., "A tetrahedral entropy for water."

Proceedings of the National

Academy

of Sciences

, 2009; 106 (52): 22130 DOI:

10.1073/pnas.0911094106.
Cited by McCraty: McCraty, R., Atkinson, M., Tomasino, D., & Bradley, R. T, "The coherent heart: Heart-brain interactions, psychophysiological coherence, and the emergence of system-wide order." Integral Review, 2009. 5 (2): p. 10-115; and also Damasio, A.R., Descartes' Error: Emotion, Reason and the Human Brain, (New York: G.P. Putnam's Sons: 1994).
Quote:

Energy may be characterized by quantity and by qualities (forms, levels, and orderliness). Levels of energy are subdivided into translational (energy associated with the motion of a molecule in space), rotational and vibrational energy of parts of di- and many-atomic molecules. The highest level of energy relevant to further discussion is energy of electronic excitation (EEE). … All the metabolic processes in which living matter participate imply consumption, transformation, or generation of energy. Albert Szent-Gyorgyi was probably the first to claim that 'bioenergetics is but a special aspect of water chemistry' and that '... structure elements (of a cell) making possible electronic excitations which otherwise are highly improbable... in structured water electronic excitation may be surprisingly long-living, and this may be of a paramount importance for the biological energy transfer' (Szent-Gyorgi, 1957).
Note: Water is essential for the regular combustion flow in living cells. Even more startling is that water itself can be burnt via the splitting of water molecules.[i] Sound waves play an active part in the splitting process and, therefore, the combustion of water in the human body. Obviously, this would result in the emission of photons. Water burning has to do with the transformation of ordinary H2O (the water molecule) being changed into H2O2 (Hydrogen Peroxide gas) through various means within the body and then being split — separating the hydrogen atom(s) from the oxygen atom(s). Not only is hydrogen a source of energy, but the oxygen gas (O2) is also a vast store of energy. However, due to the laws of quantum physics, the O2 must be activated before it is able to release its energy (in the form of photons).
Cited by McCraty:

Armour, J.A., "Peripheral autonomic neuronal interactions in cardiac regulation,"

Neurocardiology

, J.A. Armour and J.L. Ardell, Editors (Oxford University Press: New York, 1994). p. 219-244.
Cited by McCraty:

Cantin, M. and J. Genest, "The heart as an endocrine gland."

Pharmacol Res Commun

, 1988. 20 Suppl 3: p. 1-22.
1) Armour, J.A.,

Anatomy and function of the intrathoracic neurons regulating the mammalian heart

,

in Reflex Control of the Circulation

, I.H. Zucker and J.P. Gilmore, Editors. 1991, CRC Press: Boca Raton. p. 1-37;

2) Armour, J.A., "Potential clinical relevance of the 'little brain' on the mammalian heart.

"

Exp Physiol

, 2008.

93

(2): p. 165-76.
Dr. Pollack is a Professor of Bioengineering at the University of Washington, Dr. Gerald Pollack is an international leader in the field of water research. He received his Ph.D. from the University of Pennsylvania in 1968. Since then, his research interests have ranged broadly over the scientific spectrum, from cardiac dynamics and electrophysiology, to muscle contraction, cell biology, and more recently to the role of water in nature.
Currently Dr. Pollack runs the

Pollack Laboratory

at the University of Washington, which focuses on uncovering some of nature's most deeply held secrets. He is also the Editor-In-Chief of the scientific journal

WATER

, a multidisciplinary research journal that brings together water-oriented research from diverse disciplines.
Professor Pollack has earned many distinctions, medals, and honors. He was awarded the highest faculty honor bestowed by his university, the

Annual Award Lectureship

at the University of Washington in 2008.